Voltage-Boost: A True Problem-Solver
Most solar charge controllers move power from a higher-voltage panel to a lower-voltage battery bank. The GVB-series controllers, in contrast, pump electricity up hill. These controllers will take a lower-voltage panel and boost the voltage to charge a 24V, 36V or 48V battery pack. In fact, the GVB's will work with almost any panel that's below your battery voltage. Because these controllers feature true MPPT, no configuration is necessary; the controller will automatically adapt to your panel. Want to charge a 24V battery with a 60-cell (18V) solar panel? No problem. A 48V battery from a 12V panel? We've got you covered. And our 12V boost controller will charge 12V batteries from specialty low-voltage panels.
Waterproof Construction for Golf Carts and Small EVs
Rain pours down. Vehicles need to be washed. A proprietary potting compound protects the advanced electronics inside the GVB-8-WP controller, making it ideal for golf carts, marine applications, e-bikes, small EVs and other applications where the controller will be exposed to moisture.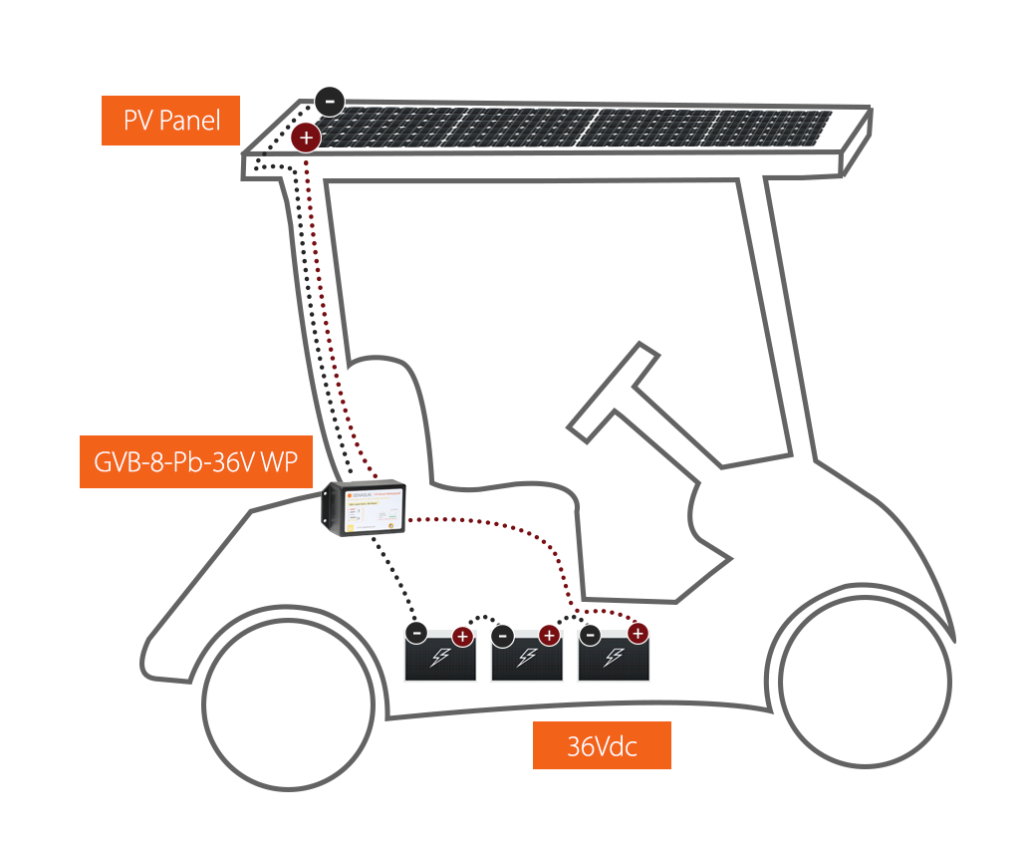 Run Circles around the Competition, on Solar
Make the most of the space on your golf cart. With a panel on your roof and a Genasun GVB-8-WP, your first 10 miles per day could be free. In fact, some of our customers never have to plug in their carts. Even if you do, the continuous charge delivered by the GVB will extend range and keep your batteries at a higher state of charge, helping them last longer.
Boost Panel Voltage to Save Money and Simplify Installation
Larger panels are cheaper per Watt than smaller panels, so using one large panel and a GVB-8-WP results in a lower system cost than using smaller panels in series and also allows simpler wiring and installation. So stop stringing small 12V panels in series to charge at 24V or 48V, and reap the rewards of the GVB-8-WP's boost technology.
Boost System Reliability with the GVB-8
Genasun controllers are deployed to the most remote locations on earth. They endure years at sea, harsh Antarctic winters, freezing conditions in the upper atmosphere on solar powered airplanes, and in a few off-the-map locations. Made in the USA, each controller is put through complete electrical testing to ensure reliability. In addition, Genasun's GVB-8-WP boosts system reliability by allowing the use of lower-voltage solar panels. Compared to a higher-voltage panel, these have fewer cells, fewer interconnections to go bad, and larger cell area to defend against partial shading, all resulting in a more robust system.
Tailored Lithium Charging Profiles Available
Our Lithium charging algorithms draw from a decade of experience building lithium battery packs for harsh environments. We've worked with every chemistry and have tailored charge profiles to help you get more capacity and cycle life from your battery pack.
Custom Voltages Available
Genasun stocks the GVB-8-WP for lead-acid batteries and for a variety of Lithium chemistries and cell configurations. If these standard configurations don't work for your OEM application, a custom charge profile can be programmed at the factory to match the specs of your lead-acid or Li battery. To order a Custom Voltage waterproof controller, please contact us. Due to the potting process, minimum quantities apply. If you would like to order a GVB-8 boost controller customized for your batteries with no minimum quantity, please have a look at out non-waterproof GVB-8 series of controllers.
Compact, Terminal-Block Versions Available
For applications that won't be exposed to water or moisture, check out our compact and lower-cost GVB-8 series of controllers.